Mandrell's Pressure Cleaning
We offer a safe, no pressure roof cleaning process to tackle the ongoing algae & fungus staining problem that does NOT damage your roof nor negate an existing warranty.
Our Mission
Mandrell's Pressure Cleaning has a single mission: Complete Customer Satisfaction! We strongly believe in giving our customers the most for their money, quality service and great communication.


CHEMICAL ROOF CLEANING
DRIVEWAY PRESSURE CLEANING
EXTERIOR HOUSE WASHING
WALKWAY PRESSURE CLEANING
Our Services
Mandrell's Pressure Cleaning, LLC. is a family owned pressure washing company based in Lake City, FL serving residential, commercial, and industrial customers. We have been proudly serving Lake City Florida and surrounding areas since 1999 providing the following services:
GUTTER CLEANING
SCREEN ENCLOSURE SOFT WASH SERVICES
POOL DECK PRESSURE WASHING
AND MORE...
Recent Posts
Roof Washing & Exterior House Cleaning of 2-story home, using an aerial lift, in Haile Plantation Golf & Country Club | www.Mandrells.com#mandrells #roofcleaning #pressurewashing Don't neglect
Customer Reviews
"They are professional, very detail oriented, responsible and do a fantastic job. Everything is in writing and easy to understand. I will hire them again without hesitation. It was a pleasure to see a company that takes pride in their work"
Rebecca Montague
"This was the first time I used Mandrell's and believe me, I will be using them again. They did better than anyone else I have used. The young man that did my job worked hard for a couple of hours just on my roof. I had a lot of debris, dead leaves, small limbs, etc and he worked hard and when he finished it looked great. The siding on my home looks like new and so do my shutters. I definitely will be using them again to pressure wash the barn and my porches. Thank you for a job well done Mandrell's, I highly recommend your company."
Bonnie Page
"Mandrell, thank you for your excellent work. We will use your services again. Can't thank you enough. You are the best."
Gautam Das
"Prompt service and very friendly! When I spoke to Shane he was very friendly and very prompt in communicating. Also his company got the job done in a timely manner. We will be scheduling them regularly."
Sandra Lin
"We are very happy with the work we had done by Mandrell's Pressure Cleaning. Friendly and efficient staff. Thorough job and clean up. A fair price too. We will be calling Mandrell's for all of our pressure/roof cleaning needs."
Mary G. Alachua, FL
"This business was very easy to deal with. The roof cleaning was completed when promised and makes our roof look like new. The gentleman doing the work was polite, friendly, and professional. I recommend Mandrell's to anyone needing exterior cleaning service."
Lynn M. Gainesville, FL
"First of all I am very pleased with the results! It looks like a new roof. Shane was pretty responsive to my call. He explained in detail the benefits to safely cleaning the roof and the importance of removing that black algae. (15 year old roof) Workers arrived on time , introduced thenselves and got busy. It was maybe a 3-4 hour process. I only called Mandrells because of high recommendation from others, so I can't compare prices etc."
Deborah Heater
"Mandrell's was great! I live in a townhouse and I went in on the service with one of my neighbors. Mandrell's was able to give us a cut on the price for doing both of them at the same time. Shane was also real good about listening to my concerns (some of my siding was rotting and I didn't want a high pressure wash that would cause water intrusion – I was having the siding repaired the week after, but didn't want to make it any worse than it had to be). He listened to my concerns and explained the process in detail along with the care they take and particular things they watch out for. When the guy came to do the service he was very good about paying attention to what I had talked to Shane about. He also pointed out to me afterward certain things he saw so I could make sure they were taken care of in the upcoming repair.
Very pleased with Mandrell's. Very professional, prompt and great service."
Tricia Kyzar
"We have a large sweet gum tree that overhangs our back screened in porch and much of our room. The gentlemen from Mandrell's climb up on the roof, and blow the debris off. This is the third or fourth time I have used them. They are always courteous and punctual."
Kimberlee Oakes
"Did a good job overall. The workers were professional and answered the questions I had. I was amazed at how clean the sidewalk and driveway looks. Mr. Mandrell kept in contact via email. He responded quickly. I plan to use his services again in the future."
Geraldine Otim
"Everything went so smoothly which isn't always the case with people working on your home. My call was answered promptly and courteously. I received an estimate in a couple days, and the work was completed in the few days after that. Shane's method of text and email was flawless. Loved the fact that he billed you after the work was completed rather than having to deal with paying the men doing the work. That way you could be there or not be there, and avoid the time consuming hassle of paying on the spot.
The work was amazing. If concrete could sparkle, mine would. My house was a mess of mold from all the rain – every bit of it is gone! Our yard has lots of trees, so the gutters were a mess and the pool enclosure was a mess of mold and algae. They did an amazing job of turning a green screen into a black one. And the pool deck is WHITE!!!
I did think the price a little high, but not being totally familiar with pressure washing pricing, I went with it. I will definitely use this company again. The bonus was how courteous the men doing the work were – very polite, friendly, and professional. Very good experience."
Barbara Gamble
"We didn't have any specific issues or stains on any of the concrete. We were just doing some sprucing up before placing our house on the market. All I could think when I got home and saw it was…wow! I really didn't expect to see that much difference but boy was I surprised. Had two neighbors stop by that evening to ask who had done the work as they were also amazed at the difference. I was able to do all the arrangements, from getting a quote to scheduling service, online and through text which made the process very convenient."
Karen Victorian
"These folks went out of their way and did a superior job cleaning my home. More importantly, they were extremely responsive to my "emergency need" to have my job performed in a hurry. I made a scheduling error to have my home painted before having it prepared (pressure washed). Within minutes of explaining my mistake to a very helpful, polite and understanding young lady at Mandrell's, Shane sent me an email and told me they would be happy to adjust their schedule to meet my (difficult) requirement. That was late yesterday afternoon. First thing this morning the crew was here, ready to go to work. They introduced themselves, called me by my name and made me feel appreciated and valued as a customer. Everyone involved, from the young lady that answered the phone, the owner/manager and gentlemen that did the actual work, were exceptional. I highly recommend this business to anyone looking for quality work, as well as good old "old-fashioned CUSTOMER SERVICE/SATISFACTION" that you very seldom experience in this day and age."
Robert Whittle
"Mandrell's Pressure Cleaning did a GREAT job pressure washing my pool deck and screen enclosure! It's finally enjoyable to be by my pool again. It looks brand new!!"
Adena M. Gainesville, FL
"They were very respectful and hardworking. I can tell they really put effort and care into what they are doing. I definitely recommend Mandrell's Pressure Cleaning to anyone who is looking for work to be done."
Adam S.
Alachua/High Springs: (352) 353-6017

---

Gainesville/Ocala: (352) 353-6017

---

Lake City: (386) 487-0064

---

Jacksonville/Orange Park: (904) 621-0246

---

Orlando: (407) 504-1672

---

Tampa: (813) 658-8672

---

Email: [email protected]

---

Fax: (207) 470-9316

---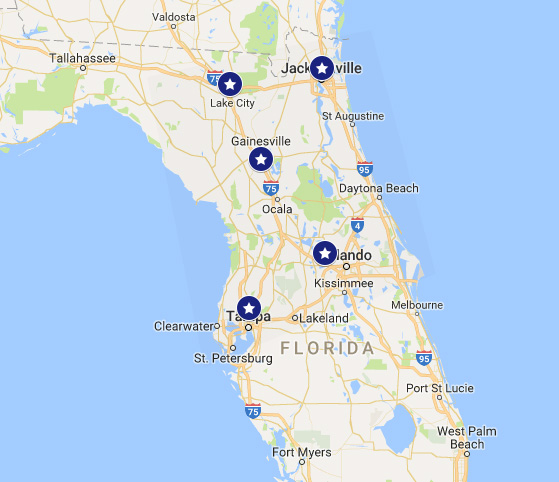 Gainesville/Alachua/Ocala: (352) 353-6017

---

Lake City: (386) 487-0064

---

Jacksonville/Orange Park: (904) 621-0246

---

Orlando: (407) 504-1672

---

Tampa: (813) 658-8672

---

Email: [email protected]

---

Fax: (207) 470-9316

---